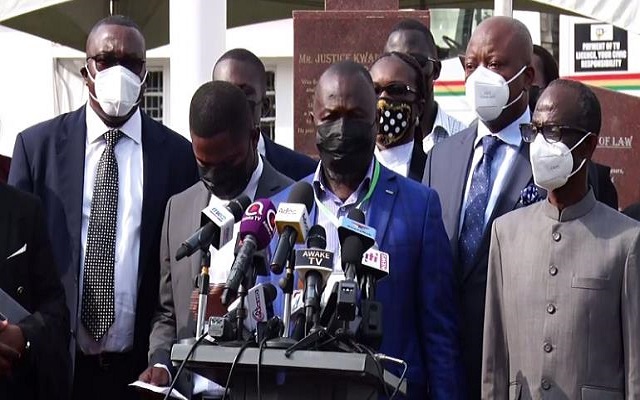 Former Deputy Attorney General, Dominic Ayine, has admitted that he crossed the line when he accused the Supreme Court of having a "predetermined agenda" against petitioner, John Mahama in the ongoing election petition hearing.
Speaking at a press briefing Monday, he said it was not his intention to scandalise the court.
The Bolgatanga East MP added that he had always tried to address the media after a hearing without seeking to attribute acts of impropriety to the Supreme Court.
"But on hindsight, I actually crossed the line in suggesting that the court had a predetermined agenda among others to rule against the petitioner."
"My attention was drawn to this fact immediately after the press briefing by Frank Davies, to whom I am grateful," Dr Ayine said.
This comes after the Supreme Court had cited Dr Ayine for contempt after he claimed there was a predetermined agenda among the judges to rule against the petitioner.
The statement followed a unanimous decision by the Supreme Court to dismiss an application by lawyers for the petitioner that sought leave to reopen his case and subpoena the Electoral Commission (EC) Chairperson, Jean Mensa.
The former Deputy Attorney General was expected to be served with the process on Thursday, February 18, and subsequently, be called to answer to the Court.
However, Dr Ayine did not show up in court.
NDC's General Secretary Sammy Gyamfi had explained that he was bereaved quelling rumours that he was running from the charge.
On Monday, Dr Ayine appeared before the court and was ordered by the judges to publicly apologise.
He told the media that he did not mean to bring the Supreme Court to disrepute.
"I wish to unreservedly apologise to the Supreme Court of the Republic of Ghana as well as the justices who sat on that day."
Dr Ayine also retracted the words he used while addressing the press in their entirety stating that "there was no intention on my part to impugn their integrity."
"I am hoping that my apology and retraction will be accepted by Their Lordships and the matter will come to an end."
Source: MyJoyOnline
Comments
comments