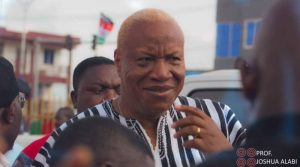 The former University of Professional Studies, Accra (UPSA) Vice Chancellor says he is "very confident" former President John Mahama will support his National Democratic Congress (NDC) flagbearer ambition.
Prof Joshua Alabi said the immediate past president is "going to hand over the baton to me" to move the party forward.
Speaking in a recent interview with Joy News' Gifty Andoh Appiah on The Pulse show, he disclosed that he has "an appetite" for the presidency.
"I strongly believe that if God gives me the strength, energy and everything it requires when they open the nomination, I may take advantage of that…but, for now, I have a strong appetite for it," he said.
The one-time Member of Parliament for Krowor Constituency believes that his leadership competence is not in doubt both within and outside the party, to help him lead Ghana's largest opposition party to victory.
"It is not about talking eloquently," he said adding a leader must have the ability to be able to convince his followers to do what he instructs them to do for the common good of all.
The Moscow trained politician said his experience through many facets of life including education, politics and sports will all come to bear if he is given the chance to be the NDC's presidential candidate.
He explained that he is still "consulting people to see if I am suitable and I get surprised what people tell me…they even tell me things I don't know about myself and they believe I am more than qualified."
Prof Alabi has tough competition to be able to lead the party to election 2020 as other big names have come up as possible contenders. So far, there has been a lot of debate surrounding former
President Mahama, who is rumoured to be seeking to lead the NDC again.
Mr Mahama had said months after he lost in the 2016 election, that it is premature to announce his intent, stressing there are issues within the party which has to be fixed.
Also, former Trades Minister, Ekwow Spio-Garbrah and Second Deputy Speaker, Alban Sumana Bagbin have thrown their hat into the ring.
Mentions have also been made of former National Health Insurance boss, Silvester Mensah's, intent of running for the highest office of the land.
But Prof Alabi says he is not bothered because his experiences as a football administrator have toughened him to always be in competition with others.
"I am not nervous because if you are a football administrator you don't fear competition…you move your team to play and it is either you win, lose or draw," he said.
"It will be one competition that the party will enjoy…you don't have to underrate anybody; I don't do that in my life," he added.
The former Vice-Chancellor believes there was a strong disconnect between the party and its grassroots leading to members thinking they have been taken for granted.
This he said made many apathetic and therefore did not come out to vote for the party which led to its abysmal showing in the 2016 elections.
He was hopeful that with the benefit of hindsight, the NDC will reorganise its structures and correct past mistakes to enable it to win the 2020 election.
Source: myjoyonline
Comments
comments