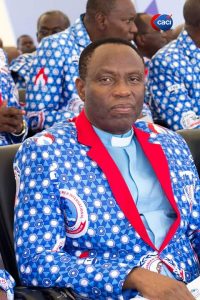 The Former Chairman of the Christ Apostle Church Apostolic International (CACI), Apostle Dr. Michael Nimo has called on the President, Nana Addo Dankwa Akufo-Addo to stand firm to ensure perpetrators of indiscipline are prosecuted and jailed to ensure sanity in the country.
According to him, the act of indiscipline is getting out of hands, therefore a serious action should be taken to bring discipline back in the country as the best way to enhance socio-economic development.
In a sideline interview at a service to climax the centenary celebration of the Christ Apostolic Church International (CAC) at the Black Star Square in Accra, Apostle Nimo stated that, all the indiscipline going on in the country is of the devil.
Devilish Act
According to the former CAC Chairman, he does not understand why a full grown man would rape a girl of three years which he described as ''so insane'' and such a person must be prosecuted and jailed.
Expressing worry, he said, "I cannot imagine what a grown up person sees in a little girl that attracts him, it is amazing and unthinkable. That person may be sick mentality, because what at all will attract you to rape a girl of such age."
Apostle Nimo urged religious leaders to stand up and prayer fervently to fight against such indiscipline acts in the country because it is not normal.
"It is so evil, I become sick when I hear on the radio as well as the television, such persons caught must be well disciplined as a way of condemning such acts in the country," he noted.
Apostle Nimo thinks there is a power behind all forms of indiscipline in the country, because "he does not understand why a man could take a cutlass to cut his wife and kill her".
He therefore urged Christians to sit up and pray to deliver the country from the power of indiscipline and to ensure stability.
Touching on the achievements of CACI, Apostle Nimo pointed out that, he was proud the church had won many souls for Christ.
"Our glory is saving souls for Christ, not in material things but just to speak to get someone converted and accept Christ as the saviour. That is our honour to present to Jesus because, we cannot present hospitals, buildings among all other material things rather the souls to God," he said.
GPCC
Comments
comments