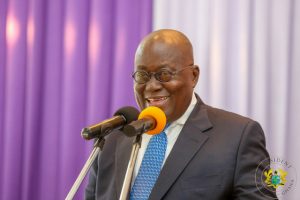 President Akufo-Addo has given the strongest indication yet that funding for the ambitious one district, one factory policy is ready.
Apart from the $2 billion funding arrangement secured from the Chinese government for the project, the president said GCB Bank has also made available ¢2 billion all of which will go into executing the policy in the 2018 budget.
The president gave the assurance during a speech at the maiden edition of the Ghana Chamber of Commerce and Industry Awards in Accra last night.
The policy which was part of the 2016 campaign promises by the NPP is premised on the need to create jobs and to change the country's economic fundamentals from a Guggisberg or raw material exporting economy to an industrialised economy.
It is also to reduce the rate of imports into the country.
Barely a year into his administration there are concerns about funding for the policy but the president has dismissed any such concern.
According to the president over 190 business proposals have already been vetted and are waiting for the execution to start in earnest.
"Government in collaboration with the Association of Ghana Industries has arranged a suppliers credit facility for $2 billion from China to provide equipment, machinery and other facilities in support of the programme.
"The 2018 budget has allocated funding as government's contribution either as equity or in kind support for the establishment of this trade enterprise.
"GCB Bank has pledged an amount of 2 billion cedis towards the one district one factory project at the industrial forum in May this year organised by the chamber.
"An additional amount of $340 million has been leveraged from local financial institutions for the programme.
"This is the kind of leadership and collaboration that is required collectively to build Ghana beyond aid," he chronicled.
The president encouraged entrepreneurs and business people to take advantage of these facilities that have been created by government.
source: myjoyonline
Comments
comments