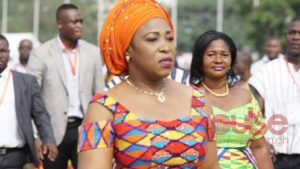 Foreign Affairs Minister Hon. Shirley Ayorkor Botwey is likely to appear before Parliament to answer questions on the current slave trade activities and killings going on in Libya.
Chairman of the Foreign Affairs Committee and Member of Parliament for Nsawam Adoagyiri, Hon. Annor Dompreh, who disclosed this on an Accra based radio station, added that "it would also afford the House to know what government is doing about the despicable acts being carried out in Libya."
"Though I have watched the video I cannot confirm or deny whether some Ghanaians are part, that is why the committee is extending an invitation to the minister to brief the house about the current happenings in Libya….I have spoken to her about it but you know the diplomatic ties involved when it comes to issues like this, but as a matter of urgency, she needs to keep Ghanaians informed about what is happening and what Government is doing about it, he added.
A horrifying video that has since gone viral captures the inhumane treatment being meted out to some African migrants in Libya, invoking outrage worldwide.
Acclaimed journalist, Kwami Sefa Kayi waded into the issue on Tuesday, calling on the African Union to immediately deal with on-going slave trade market in Libya.
According to him, "such barbaric acts should not be countenanced in this modern era".
Kwami Sefa Kayi, who was moderating Tuesday's edition of the "Kokrokoo" show, appeared stunned by pictures that have emerged so far and queried: "where is the African Union…?"
Meanwhile, U.N. Secretary-General Antonio Guterres, has appealed to the Libyan leadership to investigate these cases and bring those responsible for the slave trade to justice, in an address delivered in New York, Monday.
Comments
comments