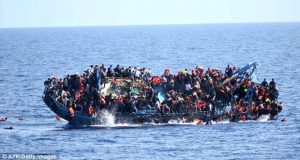 The National Officer for the International Organization for Migration, (IOM) Kojo Wilmot, has disclosed that the actual number of Ghanaian deaths recorded through illegal migration far exceeds reported figures.
According to him, this comes about because Ghanaians on such  perilous journey often fake citizenship to boost their chances of being granted asylum if they are successful with the journey.
Mr. Wilmot said Ghanaians are among persons unlikely to be granted asylum in other countries especially in Europe, where they often tend to go in search of greener pastures.
"The situation is dire. The problem is that we don't hear a lot about Ghanaian migrants losing their lives. This is because, a research we've done shows that most Ghanaians because of their quest in seeking asylum in other countries, once they make it known that they are Ghanaians, their chances of being granted asylum is very minimal, and so they take up other nationalities. But with evidence that we have with the returnees that we work with, a lot of Ghanaians are part of this calamity where lives are being lost in their quest to seek greener pastures," he said.
Kojo Wilmot made the statement on  Thursday.
His comment comes on the back of a vow made by President Akufo-Addo to reverse the trend of illegal migration from Ghana by building a sound economy with opportunities for all.
In an address at Cambridge University in the United Kingdom, the President said no Ghanaian should have to go through that life-threatening ordeal.
"There have always been adventurous Ghanaians who would go out and try their luck in other parts of the world but the periods of economic collapse turned our country into places of wholesale emigration," the President noted.
Mr. Wilmot said he believes a presidential intervention can help stop illegal migration from Ghana.
The trend of illegal migration according to some experts, is increasingly becoming a national security concern hence the need for firm efforts to address it.
Using Italy and Libya, two major transit points of illegal migration, as an example, since 2014, more than 400,000 African migrants and refugees have crossed the Mediterranean from Libya to Italy.
A total of 5,636 Ghanaian migrants reached Italy by boat in 2016, up 27% from 2015, and as at April 2017, 823 Ghanaians arrived in Italy for this year alone.
The Brong Ahafo Region has been identified as the region where most youth embark on illegal migration through the Sahara Desert to Europe, according to statistics from the International Organisation for Migration.
Source: citifmonline
Comments
comments