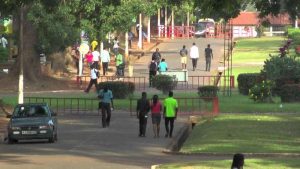 An inter-university debate to be hosted on the University of Ghana campus has been called off after a succession of clashes between students of Commonwealth hall, UG and Katanga hall, Kwame Nkrumah University of Science and Technology (KNUST).
Although the immediate cause of the recent clashes is unknown, it is linked to a long-standing rivalry between the two halls.
A resident of the Commonwealth Hall, was this week given severe beatings and an ugly haircut by rival Katanga Hall residents of KNUST.
He was threatened with death by his attackers who exacted ignominious pleas for clemency from him.
The students from KNUST were at the University of Ghana to participate in the debate competition between the halls.
But in a twist of events, an escalated clash Monday between the Vandals and Katangees left one person injured and 10 others picked up by the Police.
The clash is believed to be fueled by the video of the attack on the Vandal which went viral on social media.
In the video, the student, wearing a Vandal polo shirt is bullied by some other students whose faces are not shown.
They ask him to plead for mercy and to ask his fellow Vandals to come and pay a ransom for his release.
There were renewed clashes Tuesday dawn. "Student leaders of the two halls and authorities are currently locked up in an emergency meeting.
credit: myjoyonline
Comments
comments