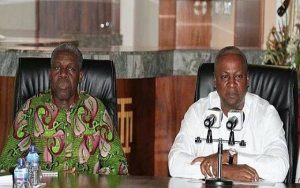 President Akufo-Addo has reiterated claims by his government that the Mahama-led administration left behind an almost empty coffers for them to work with.
In a sarcastic statement during his address to the people of Ga Mashie as part of his 3-day tour of the capital, the President indicated that his predecessor, John Agyekum Kufuor as a result of his competency and honesty, left the country with a lot more resources and money which empowered his successor Atta Mills, the reason he could embark on many developmental projects for the country. In his case however he explained, he was left with a completely wiped out coffers with no resources and money, the reason the country is still in it's sad state.
According to him, he is still making efforts to pick up the scraps and create something with which his administration can push the agenda for development.
He told the gathering that residents at Ablekuma Central had asked him for some developmental projects as the late President Atta Mills had done when he visited the area as part of his tour but he had to tell them that "Atta Mills was only lucky because he inherited power from Kufuor who left enough resources unlike my time".
"In my case, I didn't meet any money, the government coffers was completely empty, no single dime was left, so I'm picking up, trying to gather resources with which we can little by little, develop the nation and grow the economy," he added.
The President has on several occasions insisted his government inherited almost empty state coffers from the erstwhile Mahama's National Democratic Congress (NDC) administration making it difficult for him to fulfil most of the promises he made to Ghanaians during the 2016 electioneering campaign.
Former President Mahama and his appointees have however vehemently refuted those claims asking the current administration how they have been running the nation till now if indeed there was no money in the government purse.
Comments
comments