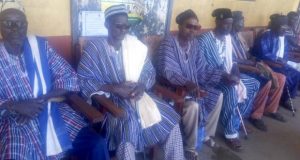 The chiefs and people of the Eastern Corridor of the Northern Region have raised alarm over the area's exclusion from the ongoing sittings of the Commission of inquiry on the creation of new regions.
So far, petitioners from the Western, Volta, Northern and Brong Ahafo regions, have appeared before the Justice Steven Alan Brobbey Commission.
But the chiefs and youth of the Eastern Corridor in the Northern Region today (Thursday), at a Durbar in Yendi, decried the area's exclusion from the list of regions under consideration for creation of new regions.
Convener of the Durbar, Peter Amana, recalled that the chiefs and people in the Eastern Corridor ahead of the 2016 polls, proposed the carving out of the area from the Northern Region.
He said some chiefs, in their speeches, had reminded President Nana Addo Dankwa Akufo Addo during his two "Thank you" tours of the region.
Peter Amana said residents in the area would be disappointed if their proposal was ignored but insisted that their proposal had no tribal or political undertones.
"We are trying to call to the attention of the President to his campaign promise. When he came during his visit to the chiefs in Yendi, we reiterated, and then we gave him a petition.When later we were hearing that Eastern Corridor is not part and that we have not given him a petition, we were worried, and that is why we are reminding him. Creating new regions without the Eastern Corridor will be a fiasco," he fumed.
"Yendi gave birth to all the surrounding Eastern Corridor districts and befits the capital for a new region, and has the administrative structures and the landmark for a befitting region."
The Eastern Corridor comprises Yendi, Gushiegu, Saboba, Zabzugu, Karaga, Chereponi, Tatale-Sanguli, Bimbila, Mion, Wulensi and Kpandai.
Petitioners want BA divided into 3 regions
The Brong Ahafo Region may be partitioned into three different regions should the Commission of Inquiry for the creation of new regions recommend a referendum that receives the required endorsement.
The Commission has, so far, received two different petitions from the region requesting the demarcation.
The Omanhene of Yamfo, Nana Ansah Adu Baah II, who is part of the petitioners for the Ahafo Region, told journalists ahead of the meeting with the Commission that the Ahafo part of the Brong Ahafo Region started petitioning the state since 1986, for the creation of the region.
source citifmonline.com
Comments
comments