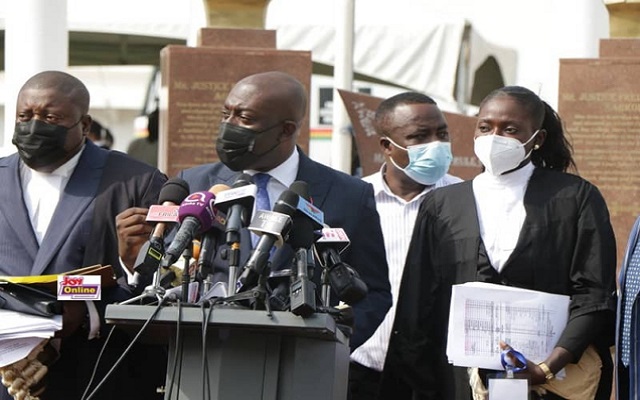 A member of President Akufo-Addo's legal team has taken a jibe at the National Democratic Congress that their General Secretary, John Asiedu Nketia cannot save their case despite his 'skillful' communication tactics.
Addressing the media after Monday's hearing, Kojo Oppong Nkrumah described the election petition filed by the 2020 NDC presidential candidate, John Mahama as "a bad case".
In his view, the Lead Counsel of the President, Akoto Ampaw during cross-examination exposed the "inconsistencies and sometimes outright falsehoods that were peddled by the petitioner and the witness who was in the witness box today."
Mr Oppong Nkrumah contended that the NDC before filing the election petition took to the streets claiming a "stolen verdict". However, when questioned at the Supreme Court they argued that no candidate of the 2020 election acquired the 50 per cent plus one needed to be declared as the winner.
This comes as a surprise to him because "the millions of NDC supporters across the country who were led on by this same team that they had numbers to prove that they had won, are now in court, saying 'they did not come to court with any of those numbers'".
Rating the today's hearing, Mr Nkrumah said it was "a good day". He further accused Mr Mahama and the NDC of seeking to undermine the "good job" of the Electoral Commission (EC) and its Chairperson, Jean Mensa.
Mr Oppong-Nkrumah added that the Chairperson of the EC had come under constant attacks and vilification since her appointment and have treated all her efforts with "bad faith and prejudice".
Meanwhile, the Spokesperson for the petitioner's legal team, Marietta Brew Appiah-Oppong on her part said the cross-examination rather supports their petition that no candidate won the 2020 election.
Source: MyJoyOnline
Comments
comments