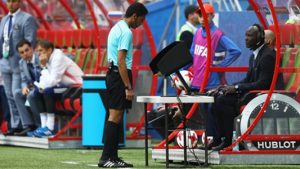 Video Assistant Referee (VAR) will be used for the first time in a CAF competition at the Total African Nations Championship (CHAN) Morocco 2018.
The usage of the latest technology was okayed by the CAF Referees' Committee at its meeting on Monday, 27 November 2017 in Cairo, Egypt.
The experimentation of the VAR technology will commence from the quarter finals stage of next year's tournament scheduled for 13 January to 4 February in the Moroccan cities of Casablanca, Marrakech, Tangiers and Agadir.
African referees shortlisted for FIFA World Cup Russia 2018 and with previous training in VAR will be called upon for the tournament designed exclusively for footballers playing in their domestic leagues.
In his opening remarks at the first meeting of the reconstituted committee, Suleiman Waberi, who chairs the committee, enlightened members on the importance to make collective decisions to improve officiating on the continent.
"Today we are going to make some very important decisions that will be pivotal for the future of refereeing in Africa. We will launch major projects to meet the challenges ahead.
The world expects a lot from the new CAF and particularly from this reconstituted Referees Committee to make significant changes to meet the expectations of our clubs and Member Associations to silence the critics of refereeing in Africa and be at par with other Confederations," Waberi said.
Among decisions taken was the obligation for all Member Associations to have a functional Refereeing Department.
Also, the committee made up of former international referees, now experienced instructors, have been assigned specific geographical zones areas to ensure the implementation of the decisions taken by the Committee and the permanent monitoring of referees on the CAF lists.
In addition, the CAF Refereeing Department will soon be equipped with a video unit and also establish a performance rating system for referees.
The committee also adopted a four-year (2017-2021) action plan to be submitted to the CAF Executive Committee, including the conclusion a working group on the revision of allowances and the mode of payment for referees designated in CAF competitions.
The latter is one of the priorities enacted by CAF President Ahmad. This working group is composed of the president of the Referees Committee, CAF General Secretary and representatives from Finance and IT divisions, and the Refereeing Department.
The Committee also approved the concept of an open day for media at major CAF competitions (AFCON, CHAN, Women's AFCON) for accredited media to acquaint themselves with events in the world of refereeing.
Source: CAF
Comments
comments