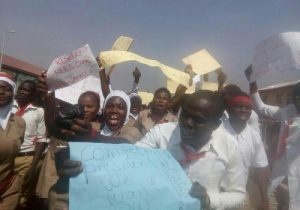 Students of the Tamale School of Hygiene on Tuesday morning embarked on a demonstration to register their displeasure toward government's delay in the restoration of their allowances.
The students who were in their school uniforms with red arm bands around their heads, wrists and necks started the march from their school premises which is situated at the outskirts of the Tamale metropolis through the Tamale-Bolgatanga highway to the Central Business District (CBD) area to the Northern Regional Coordinating Council (RCC) where they presented their petition copied to the President to the Northern Regional Minister, Mr. Salifu Saeed for onward submission to the President.
Some of the placards displayed by the students during the march read  "Competent President, we want our allowance", " Prevention is better than cure so pay attention to hygiene students",  " No Allowance No Hygiene" among others .
The students also issued a one week ultimatum to the government to restore their allowance or else they will close down the school.
According to them, they did not understand why their colleagues from the health training institutions had received their allowances as promised by the government and they were denied theirs although they went through the same necessary procedures and processes.
They said they needed the allowances to take care of their educational needs while in school, as well as other important issues since most of them did not have enough money to pay for their school fees and still cater for these things.
The students last week Thursday threatened to embark on demonstration to press home their demand for the restoration of their allowance when the Deputy Minister for Sanitation and Water Resources, Mr. Michael Yaw Gyato visited the school as part of his two day familiarisation visit to the Northern Region.
Mr. Gyato who is also the Member of Parliament (MP) for Krachi East  was in the region to access some of the challenges confronting the sanitation and water sector and how best to roll out plans and policies to address them.
Mr Gyato during his visit to the school appealed to the students to exercise restraint and plans were underway to restore their allowances.
However a week after the visit by the Deputy Minister to the school the students who could not withstand the further delay for the restoration of their allowances today hit the streets in Tamale to register their displeasure.
Credit: Graphic
Comments
comments