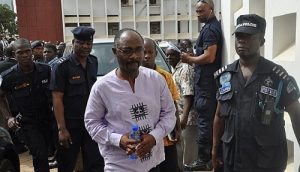 The Supreme Court of Ghana has denied Alfred Agbesi Woyome the enjoyment of the fruits of his efforts in Arusha, Tanzania.
Lawyers of Alfred Agbesi Woyome Monday went to Court proudly wielding the judgment of the African Court for Human and People's Rights in their favour hoping it will get the Supreme Court to grant them their application for stay of proceedings.
Alfred Agbesi Woyome filed an application at the Supreme Court asking the Court to stay moves to sell his properties to defray his judgment debt.
The African Court had on November 24 granted Mr. Woyome's application for interim measures ahead of the hearing of his human rights case against the government.
In the ruling the Court ordered the Government of Ghana to stop all processes to sell Mr. Woyome's immovable properties to retrieve the debt.
When the African Court ruling was raised by his lawyers on Monday, Deputy Attorney General, Godfred Yeboah Dame, told the Supreme Court Ghana is yet to carry out the necessary processes that will make such decisions binding in the country.
After deliberations, the 5-member Supreme Court panel hearing the application speaking through Justice Anin Yeboah said Alfred Agbesi Woyome failed to give any factual and legal basis for the Court to grant him his wishes.
The court has also dismissed another application from Mr. Woyome seeking to stay his examination by the Deputy Attorney General.
Source: Radiogold
Comments
comments