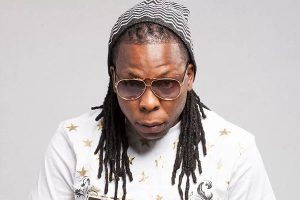 Rapper Edem has joined the current debate on the payment of TV Licence Fees, insisting it is a shame to fund the state broadcaster.
The TV Licence Fees established by the Television Licensing Act – 1966 (NLCD 89) were re-introduced in 2015 to charge fees from individuals and groups that own television sets.
The licence fee has been put into three categories. The first category is the domestic use which charges GH¢36 per television set and GH¢60 for two or more TV sets in the same house.
TV set repairers and outlets shall pay GH¢60, while TV dealers pay GH¢120.
The Ghana Broadcasting Corporation (including GTV) which has been mandated to do the collection of the fees will take 72% of the revenue.
But in a 'polite' tweet, the 'Gbevu' hitmaker asked GTV to shut down if 'they can't face the growing competition on the television or in the media industry…"
According to the rapper, he sees the collection of the TV license as a complete rip-off.
Edem stressed that he cannot fathom why authorities wouldn't lead a campaign to check musicians' royalties instead of 'siphoning money from us in the name of TV licence'.
See the tweet below: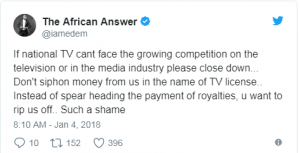 source: adomonline
Comments
comments