President Akufo-Addo has dissolved the Ghana Football Association after a private investigative company, Tiger Eye PI documented rampant bribery and corruption in the game.
Sports Minister Isaac Asiama has confirmed the dissolution and said all its officers can no longer carry themselves as FA officials. 'It has been dissolved with immediae effect', he told Evans Mensah on Top Story.
"When we say the FA is dissolved it means all functions, all activities are all dissolved", he said and mentioned the suspension of the Premier League.
This comes 24 hours after the public screening of the documentary at the Accra International Conference Center reduced the Association to ridicule and severe trolling on social media.
The President of the Association was filmed allegedly collecting $65,000 from 'investors' to influence the president and vice-president to get road contracts.
He is under investigation for defrauding by false pretence.
A statement from the Presidency has confirmed the President's decision to dissolve the FA.
The dissolution is likely to attract a FIFA ban as its rules oblige member associations to manage their own affairs "independently and with no influence from third parties."
FIFA banned Nigeria in 2014 after its High Court disbanned the Football Association after a poor showing at the World Cup in Brazil. A ban would mean no Ghanaian team, including club sides, can play in regional, continental or international competitions.
It is actually argued that the president does not have the power to dissolve an incorporated organisation.
Government has directed the Registrar-General to remove the name of the GFA from its books. The Police has also began investigating all persons indicted in the documentary titled 'Number 12'.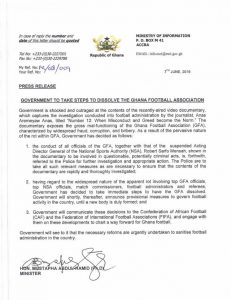 source: myjoyonline
Comments
comments