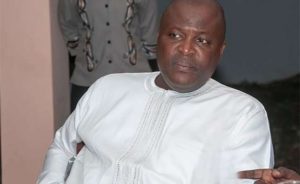 The brother of former President John Mahama, Ibrahim Mahama, has stressed that he is a self-made businessman man and not a beneficiary of political favours.
Speaking to graduate students of the University of Ghana on how to become successful entrepreneurs at the 2018 GRASSAG Entrepreneurship Seminar, he emphasized that he had his wealth long before John Mahama first contested an election to become a Member of Parliament in 1996, before he went on to become a Vice President and a President.
"I want to set the record straight that I was who I was; I was successful. That's why I can chop my money without looking back and thinking that Amidu is coming to call me. And that is the confidence I do have. When I started the business, John Mahama hadn't even picked up his forms to become an MP."
He said business was even better for him when the New Patriotic Party (NPP) came into office in the year 2000.
"I became much more successful in Kufuor's time because I had nobody hanging around my neck.I rather regret when my brother became vice president. It became a problem for me in my business. When even I thought they would be nice to me, they were worse to me. Today, NPP is in power; I likely won't get favours, but I'm even doing better than I was doing when my brother was president."
It is for this reason he has no fear of being prosecuted by the Special Prosecutor, Martin Amidu.
"I don't go anyplace fearing my shadow, running away from my shadow. When I started business John Mahama hadn't even picked up his forms to become MP," the mining magnate reiterated.
At the same event, Mr. Mahama also announced the support of $2,000 for 20 of the graduates at the event with viable business ideas.
He further charged other successful businessmen and women to emulate his gesture.
"There are a lot of very successful other businessmen who should listen to the youth. What the youth are looking is $2000 or $3000. Let's be able to do what others did for the likes of us that helped us to start our businesses that have now become a monster. The business has grown beyond me so much so that even when I am not there, the business will stand on its feet," he told the press.
credit: citifmonline10
Comments
comments