Actor John Dumelo was presented with an interesting cake during his recent trip to Lusaka, Zambia.
The actor, on his arrival in that country as a guest judge of the 2017 Miss Zambia pageant, was presented with a cake that had the inscription "Welcome To Zambia Future President of Ghana".
John Dumelo shared a photo of him, receiving the cake, on Instagram and said: "I was presented with this lovely cake on my arrival to Zambia…..
The actor, a staunch member of the National Democratic Congress (NDC), has publicly declared his intentions of becoming president of Ghana.
Many of his Instagram followers believe the cake is a prophecy that he will one day become the First Gentleman of Ghana.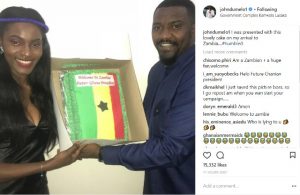 The 2017 edition of the Miss Zambia pageant came off at the Government Complex in Lusaka.
Organized by Platinum-Events-Productions Africa, the pageant was won by Musa Kalaluka.
sourc: myoyonline
Comments
comments