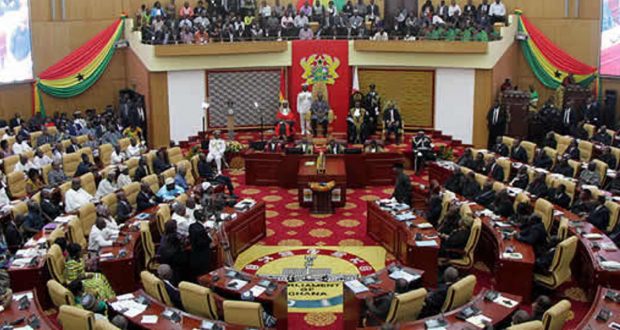 The Minority in Parliament is daring the president to prosecute persons within the previous administration he accused of bloating contract figures.
At the very least, the Minority spokesperson on Finance, Casiel Ato Forson challenged the president to "name and shame" the persons and companies behind this bloated contract figures and stop engaging in empty propaganda.
He was responding to president Nana Akufo-Addo's claim that the government, after auditing the debts bequeathed to his government, made some GH¢5.7 billion savings.
In his second encounter with the media, the president minced no words in chiding the Mahama led government of inflating contract prices.
"We have had to subject 8 billion cedis of arrears, bequeathed to us in 2017, to a process of audit review and validation. The audit service has certified payments to the tune of GH¢5.5 billion and rejected about GH¢5.7 billion cedis, representing a potential savings of 51% on these outstanding commitments. This shows the validity of our criticism that so much of contracts awarded in the Mahama era were inflated, and apparently, in some cases, non-existent," President Akufo-Addo alleged.
Hours after the president's remark, the Deputy Information Minister Kojo Oppong Nkrumah painted a more gloomy picture of the situation.
He told Newsnight hosts Evans Mensah and Emefa Apawu, he has seen a dossier from the Auditor General, names of persons who claimed to be owed huge sums of money but when they were asked to bring supporting documents for validation they failed to show up.
Some even came to say they had already been paid, he said.
"When you ask these persons to bring you what they are requesting from government and they bring you 11 billion [cedis] and you now go through a process of validation and only 5.5 billion can be validated, some disappear, some don't come back, some come and admit that they have been paid already yet they had put in new claims.. The president is justified in making the argument that indeed things were bloated and or things that were non-existent were programmed to be paid," Oppong-Nkrumah suggested.
But Ato Forson was not impressed. He said he was disappointed in what he claimed to be inconsistencies in figures provided by the government on the matter.
He said the figures provided by the president did not add up. He also cited figures by the Vice President at the 69th New Year school which he said were completely different from what the president said.
"So, in the end, you will realize there are various numbers coming out which makes me doubt it. I doubt the entire numbers coming out of government. I can't believe any of them.
"If I were the president, at the minimum I would have named and shamed those companies that he claimed made claims they had not worked for. Let me also put on record it is a criminal offence for any contractor to pretend as if the state owes him and make a claim on the state only to admit they have been paid already.
He said the president ought to have started prosecutions against these contractors rather than sit in his office and make political statements.
Samuel Okudzeto Ablakwa who was also in the studio with Kojo Oppong Nkrumah said the president is no longer on the campaign platform and he must begin to act as the president.
Samuel Okudzeto Ablakwa
In a quick rebuttal, Oppong Nkrumah said the fact that the names have not been released does not mean they will not be named or prosecuted.
Comments
comments